This is a Sponsored post written by me on behalf of No nonsense for SocialSpark. All opinions are 100% mine.
I think boots are my new favorite footwear...which is saying a lot considering my love affair with flip flops.   And how can you top wearing adorable boots?  By wearing adorable boots with super comfy leggings or tights, of course!  And if those leggings or tights are super affordable?  Even better!  
Plus, leggings are just a tad more forgiving than skinny jeans after having a new baby :)  I've had a little trouble losing my baby weight (plus some that I've put on since!) and its been challenging to give variety to my small wardrobe that still fits.  
The main way that I change up the same old clothes is by accessorizing! Changing up tights, scarves, and jewelry can totally change an outfit!  And since I'm a jewelry lady, I've given awesome alternatives to the pieces shown with much more affordable Premier Designs jewelry pieces.
No nonsense tights and leggings are very affordable and can be easily found at grocery stores, drug stores, and mass stores (like Walmart and Target).  They come in lots of fun colors that can easily change up your outfit with a simple switch.  Check out how the leggings in the outfit below add a fun pop of color!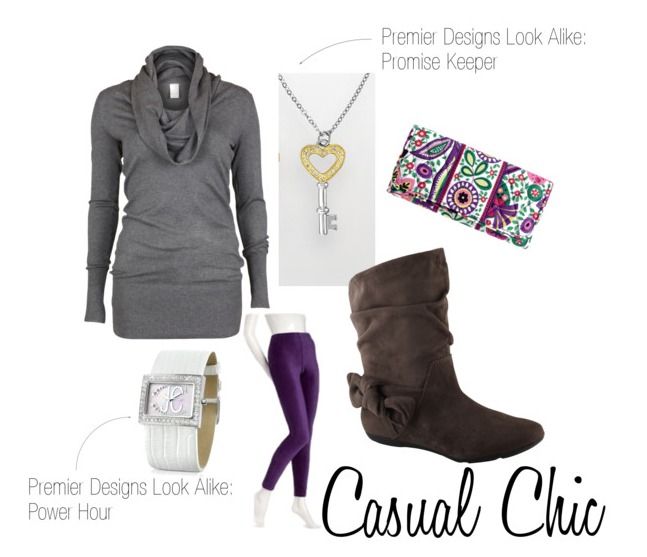 Jill Martin, Emmy-winning TV personalty and co-author of best-selling style guide "I have nothing to wear!" has teamed up with No nonsense to give fashion and style advice.  She is very stlish and fashion-forward...a great person for No nonsense to partner with!
You can check out No nonsense on Facebook or on Twitter (@benononsense).