When I left work on Friday afternoon, I never imagined that my weekend would turn out the way it did. I had been pondering taking a half day vacation and based on the recent weather reports, I decided to leave around lunch time.
I got home and stayed with my mom and my kids at my parent's house (they have a basement - we don't). My husband and dad got home around 3:30. Not too long after we heard of the tornadoes touching down a few counties over. We watched closely on the news and headed to the basement shortly afterwards. We stayed down for a long time. The electricity went off shortly after we got down there. And our phones had poor service off and on. Our only communication to find out what was going on was text from friends and family.
After we came upstairs, the phone calls poured in. Family and friends were calling that had heard that our area was hit hard to see how we fared. And we began hearing reports of where the devastation was. The next phone call was from one of my dad's tenants. Their house was right in the middle of the "disaster zone."
My dad and husband went out to assess the damage and help them. It took them a long time for them to get through to the area. There was even a mobile home in the middle of the road that they had to wait to be moved.
The next day, we drove past now of the hardest hit areas and I captured a few of these pictures.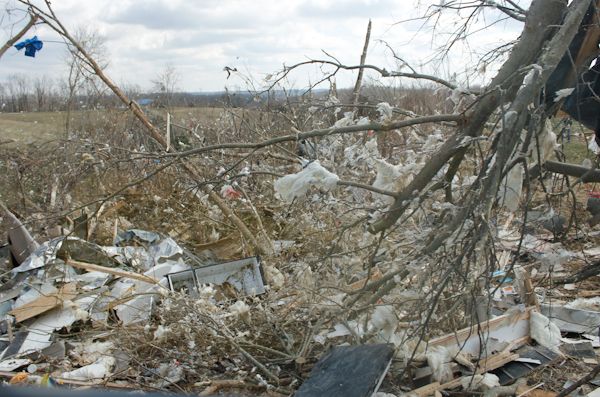 The remains of a brand new mobile home. Nothing was left besides this. Approximately a half a mile to a mile looked like this. A woman was found in the middle of the road here shortly after the tornado went through. She survived.
This was our next door neighbor for four years until we moved to our new house (maybe 2 miles away). If you can't tell, their house is broken in half. The tornado blew out their foundation on the one side of the house. I hate to see such horrible things happening to such nice people.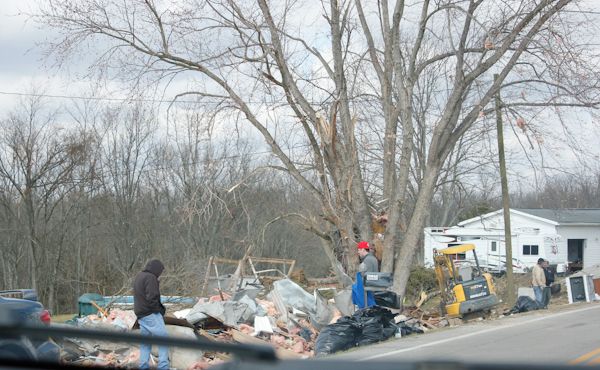 This was the sight of where the mobile home was moved into the road. It was wrapped around a tree and blocking the road before being moved.
The next few images are fairly self explanatory.
This last picture is an old church in the area that was at least a century old (if not more). It has been abandoned since before we've lived around (14 years). A few people continued to put their time and energy into preserving the property and surrounding cemetery. I'm sure they were devastated to see this.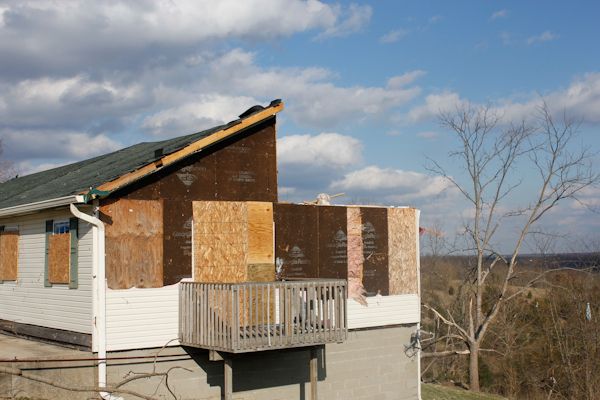 And the house above is my dad's rental home. But really it's more than that. It's the home where Matt and I moved into as newlyweds - planning to stay for just a few months that turned into years while we built our home. We brought both of our babies home from the hospital to this house. (We moved out a week after Gray was born)
It seems so silly to be so sentimental over a house. But this just hit so close to home.
Left to Right, Top to Bottom: 1) the view from the dining room 2) the back side of the house 3) from the master closet 4) another view from the master closet 5) side view from the other side 6) front view of the collapsing roof.
Despite all of the devastation and destruction, I have been amazed at the outpouring from the community. On Saturday, there were hundreds of people along this stretch of road helping each other. There was food donated and delivered to the volunteers. I've seen such unity and love from our neighborhood.
Even though our area in Southern Campbell County and Northern Pendleton County were hit hard, there has been very little news or media coverage of this area. We're told its because there were no fatalities in our counties. Other areas in our Cincinnati Area were hit just as hard or harder than we were. This lack of coverage hasn't stopped groups from forming on Facebook to organize donations and volunteer efforts.
Our church started accepting donations at 1 pm on Saturday. Just 30 short hours later, we had to start turning away clothing donations because we received so many. I was totally and utterly amazed. The "free store" begins tomorrow to pass out supplies to those in need.
Please pray for those affected in our area and other areas affected nationwide. According to CBS morning show on Saturday, the month of March averages 72 tornadoes in the US. On March 2, 2012, there were 80 tornadoes.