Our winter this year has a been a little less than ordinary. We live in the midwest. Kentucky. So we usually have a good amount of snow. At least 1-2 snows of 3+ inches.
This year, it's been about 40-50 degrees most of the time. We've gotten snow three times, but the amount is pathetic.
And of course this is the first year that my kids got snowsuits :-/ They want a snowstorm so bad that they have pretend snowball fights and make pretend snow angels together. Gray even calls his snowsuit an Angel Suit.
Last week, we got a dusting of snow. And it was supposed to get up to 38 degrees that day, so we had to take advantage of the snow while it lasted. They got all bundled up and headed out.
They ran around, but got bored pretty quickly. I showed Layne the snow accumulation on the picnic table and helped her get on it to make her snow angel.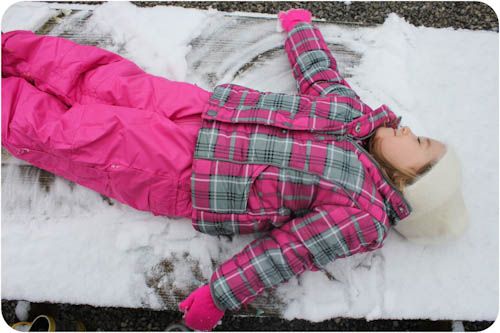 Gray made snowballs and threw them at me the whole time. I wasn't very successful capturing it since he fell and hit his head right on the edge of the bench behind him and we had to go inside.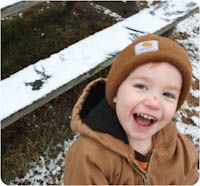 To make it all better, we made hot chocolate! Yum!
And two cute kids had to add ice cubes because it was so hot. Then made a huge mess by drinking it from the spoons. It was totally worth it though!
And while they are still holding out for a big snow, this momma would be totally okay if the winter stays like it has been until Spring!