My project was the Queen Bee and Me Necklace set.
If you missed the
results post
, I was eliminated. After seeing the other projects, I totally expected it. My project was a good knock-off, but the competition was better!
77 of you voted for me. If you factor out my friends and family that likely figured out my project because of my models, there were still around 50 people that thought my project was in the Top 3! And for that, I'm VERY flattered!
To be totally honest, I'm kinda relieved. Don't get me wrong, I really wanted to advance to the next round. But it was stressful! I LOVE crafting and creating. But I don't love crafting and creating ... on a time line. Even my husband said that I was in a bad mood when I was making my piece.
And because of that time line, I didn't get to put my best work out there. I did a second version with thinner stitching and a brown ribbon necklace instead. It was MUCH better!
I was honored to have been chosen to participate. Thank you for each and every one of your support!
Special thanks to my beautiful sister, Jen, and my too too cute niece, Josie! They graciously agreed to be models for me. And had to put up with my craziness running around trying to take pictures in the 15 minutes of free time that I had last week.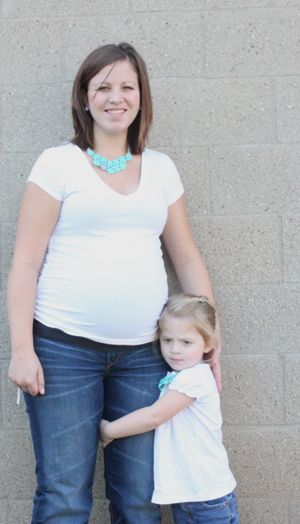 Coming up on Friday ... Queen Bee and Me Necklace Tutorial!