Here it is in case you missed it!
My life has recently been pretty Disney focused since we are taking our first Disney World vacation very soon! I've been planning which parks we'll go to one which days, where we are going to eat, what rides/attractions we must do. Even my
kids clothes to match the parks
:) When a friend asked what kind of autograph books we were getting to take, I had a mini panic. I didn't even think about autograph books!
So when I was at Michael's the other day and they had these cute little notebooks for $0.60, I knew what I had to do! I bought two...not caring what was on the front of them.
And after pulling out some old Scrapbook paper scraps and using my trusty Cricut and a little bit of Mod Podge, these were created!
Wanna learn how? It's super easy!
Notebook
Mod Podge
Scrapbook Paper
Scissors
This was such a fun project to tackle with my kids! They are only 2 and 4, but they had a great time picking out their papers and helping mommy cut out Mickey Mouse heads. For some reason, we used the one's mommy cut out...I can't imagine why! :)
After figuring out which paper you want for the background, trace around the front of the notebook and cut a square to fit the cover. Apply Mod Podge to the front of the notebook and press it down making sure that there aren't any air bubbles. Let it dry for a few minutes.
Apply Mod Podge to the paper where you plan to add your other embellishments (i.e. our mickey mouse heads) and press the layers down firmly. Repeat until all of your cover is assembled.
Apply a layer of Mod Podge over the top liberally. Yes, it goes on thick and white, but it will dry nice and clear. I promise!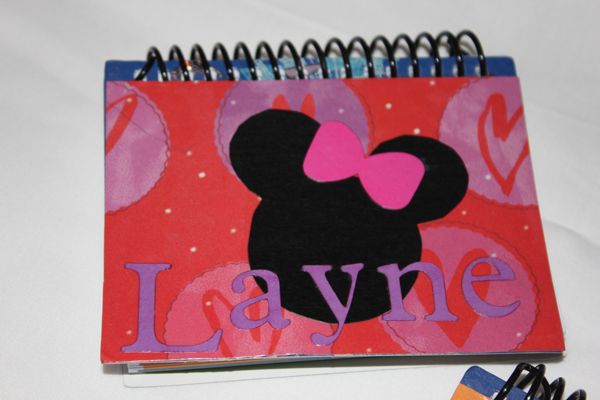 What I love about this project is that you can customize it and do it to just about anything! Spiral school notebooks, composition notebooks, folders, whatever! It's a great way to get your tween that Justin Beiber notebook for the price of the $0.05 back-to-school plan one that you scored! Or to make your custom Batman/Transformer/Spiderman combination that you can't find anywhere that's exactly what your boy wants!