There were sooooo many awesome projects linked up.
Jenny and I had such a hard time deciding who deserves the prize because in reality, all of you do!
This event exceeded our expectations. I definitely want to make this an annual event! So keep working at your refashions and upcycles.
With Prizes from:
Second Place!
Turtleneck Refashion by make Home make sense
With Prizes from: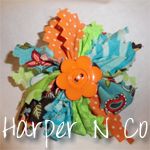 Third Place!
Scrappy Floral Skirt by Maybe Matlilda
And I have quite a few runner-ups that were in my favorites! I'll share them next week!
As for the winners, start shopping those shops to decide what you'll use your credit on! And send me your name, address, and email address. I'll pass the info to the prize sponsors!