Today is bittersweet. My sweet baby boy is two. He is a rough, tough boy who is not ashamed to wear pink shoes or his mama's high heels. He is quick to lose his temper, but also quick to love and hug & kiss. He is brave and strong, but still needs kisses when he gets boo boos. He is my sweet boy.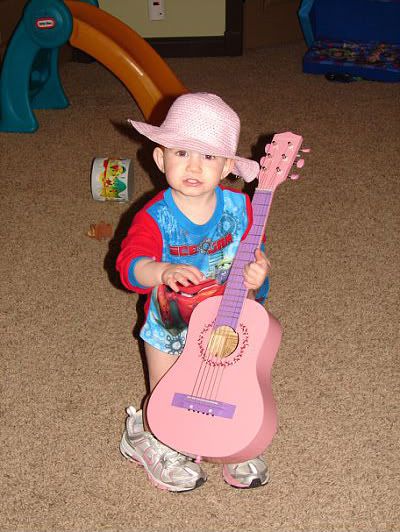 Of course, as every mother does, today I think back to the day that I gave birth to him. It was a roller coaster of emotions.

A bit of back story first. With Layne's birth, I was induced and after 24 hours, I only progressed to 5 cm and my cervix was swelling. The doctor recommended c-section and I agreed. Long story short, after lots of research and realizing what I could have done differently the first time, I decided to try for a VBAC (vaginal birth after cesarean). My first birth was okay, but it was scary and recuperation was slow. At the end, I still had a sweet baby girl.
I started out going to the same doctor that delivered Layne and they agreed to do a VBAC. They probably do 2-3 VBACs/year and seemed supportive. They would answer all of my questions with the right answers, but said many contradicting things in the next breath. I would have to go into labor on my own by my due date, I would be on a time schedule and would have to progress 1 cm/hr, and the list goes on. I decided to switch OBs at 32 weeks to someone who was very pro-VBAC, Dr. Bowen. I was immediately at ease when I went into his office and I knew that I was giving my VBAC the best chance for success. I could go up to 2 weeks past my due date, there was no time schedule, and he was under the belief that everyone progressed differently. Plus, he does 30-40 VBACs/year!
On Wednesday night (night before my due date), I started having some timeable contractions. This had happened every night for the past week, so I wasn't too sure that it was labor. The contractions felt different though. Around midnight, we went to bed and Layne woke up around 2:30ish. I just stuck her in our bed and had a contraction. I waited for the next one and it was 8 minutes between them. I rolled over to go to sleep and felt a funny pop...yep...my water! It didn't gush, but was slowly coming out. I told Matt to get up and get me a towel and when I stood up, the falls let loose! We called the doctor to let him know and he suggested we labor at home for a while. We both got showers and got things ready. I was so excited that my labor was starting! My biggest worry was that I wouldn't go into labor on my own, but I did! (Imagery...going up the hill on the roller coaster!)
By 4:30, the contractions were very painful and I had to breathe through them. They were 3-5 minutes apart. We called my parents and told them to get to our house to watch Layne and we headed to the hospital. We live about an hour away, so we were freaking out a bit about the long drive. We got to the hospital around 6am and I was checked...only 1 1/2 cm and 80-90% effaced. I was very disappointed. I thought I was at least 3-4 cm! (Down that big hill!)
The contractions continued and I quickly threw out my plans of a natural childbirth. My pain tolerance must be zero! I got my epidural around 8:30 and I was 2 cm. Around 9:30, no progress and cervix was slightly swollen. At 10:30, I was 4-5 cm and still looked a little swollen. We were so happy for some progress! (Going back up that roller coaster hill!)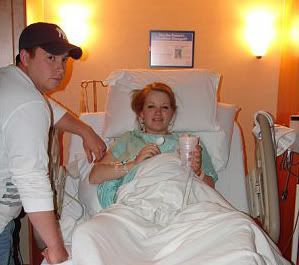 It gets a little fuzzy for me here. I know that I stayed around 4-5 cm for a while and finally progressed to 6 cm, still swollen. I stayed there for several hours and my hopes were diminishing (back down that stupid hill!). Everyone was very perplexed that my cervix was so swollen, but still dilating.
The nurses and doctor were awesome. They let me labor as long as I wanted if me and baby were doing good. One nurse (my hero!) suggested that I get on my hands and knees in bed and stay like that for a while. It was oddly comfortable. The contractions got very hard and close together in this position. Even though I had my epidural, it only worked for about 2 hours before it had to keep getting re-dosed. I labored two to three times with worse labor that before I got my epidural while waiting on the anesthesiologist. I finally progressed to 9+ cm and started throwing up. (Can you go up a hill on a roller coaster and down at the same exact time :))
They called the doctor. He checked me and I was only 8 cm and very swollen. I had definitely started to regress since he was very confident that the previous exam was correct. He wanted me to labor on my stomach again.
Hour later...no progress. They decided to try some pitocin since my contractions were slowing. After pitocin for two hours and laboring on my stomach, they checked and I was complete! (Up on top of that hill and staying there!) I was having my VBAC!
I started practice pushes around 1 am and the nurse told me stop...he was crowning! It took the doctor 25 minutes to get there and it was so hard to not push and breathe through my contractions. He finally arrived and I started pushing. (Skip some TMI details) One more push and my baby boy was born (2:19 am). It was an amazing feeling!
He was placed on my chest and I got to love on him and hold him first. I've never felt anything like it. The emotions were so raw and amazing. We were all crying. The first thing that Matt said was, "He's huge!" And he was...8 lbs 10 oz (a full lb bigger than sissy) and 21 inches. He had bright red hair and broad football player shoulders. I had a healthy baby boy!
The poor baby wasn't named for 4 or 5 hours, but we finally decided on Grayson (spelled Gray instead of Grey to honor my dad, Ray). Our boy was an expert nurser (and nursed for a full year) and gained weight like a champ. He was over 9 lbs when we left the hospital, over 12lbs by 4 weeks and 17 lbs by 4 months! He was an amazing sleeper, only waking once per night around 3 am to eat.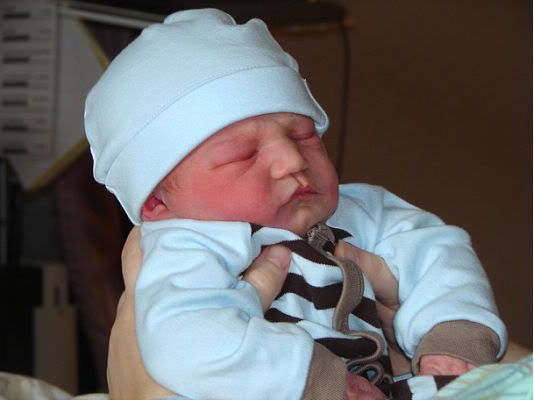 We had our fair share of challenges and worries too. Grayson had a heart murmur at birth that he outgrew before we left the hospital. He had an undecdended testicle that had to be removed with surgery when we as 10 months old...and he was a reflux baby. He took Prevacid for 10 months too.
But oh, he has been such a joy! His smile melts my heart and I praise God for him everyday. He is a problem solver and can figure out how to get whatever he wants. He runs me ragged, but he's my boy. I can't imagine my life without him!
Happy Birthday Gray Gray!
The big Cars party is today! Pictures to come in a few days!