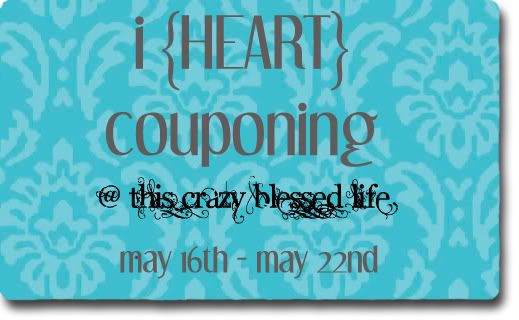 Okay...on to CVS!
CVS also has a savings program where you get Extra Care Bucks (ECB).
You have to sign up for a CVS Extra Care Card to get these deals. This is pretty much like a Kroger Plus card. And these are limit 1 card per household.
Here's what ya need to know about ECB
Extra Care Bucks are a coupon good on your next purchase that prints out on your receipt. You can also get these at the Magic Coupon Machine or through email. You earn these by purchasing the certain special sale items. You also get 2% of all of your purchase in ECB every quarter.
There is a limit to how many of each item you can get ECB back on. It'll tell you the limit in the weekly ad. It's usually Limit 1, but I've seen up to Limit 6.
You earn $1 ECB for every 2 prescriptions filled.

Magic Coupon Machine

This is a big red machine at the front of your CVS store. You scan your Extra Care Card & it'll print coupons out for you. Sometimes it's for $ off certain items. Sometimes it's for $ off $15, 20, 25, or 30 purchase.


Green Bag Tag

If you shop CVS regularly, I highly recommend purchasing a $0.99 Green Bag Tag. You purchase it the first time & scan it every trip. Every 4th time you use it, you get $1 ECB!


Rain Check Policy
– CVS gives rain checks that are good for 1 year! You
CAN
get rainchecks on ECB deals. If you have coupons that are close to expiration, they can staple them to the rain check and still take them.
Last CVS Tip: Make sure to sign up for CVS emails at https://secure.ed4.net/CVS/enroll/global/signup.cfm. You will periodically get emails for $X off when you spend $XX. (Ex. $3 off $15, $4 off $20, $5 off $25, etc). Using these $/$$ coupons really add up & you'll start rolling in the ECBs!
So, are you overwhelmed yet!?!?
Next up Today is Grocery Stores!